Convenient and Affordable Storage Solutions
Although storage container rental programs were originally developed as an alternative to moving trucks and long-term storage, increasing demand has identified several uses that go beyond using the containers for moving. Mighty Cube's storage container rental services provide convenient and affordable solutions that include
Long-term storage
On-site storage
Seasonal storage
Temporary storage
Residential storage
Business storage
And more!
Whether you are looking for additional space to store extra belongings or planning to move your home or office, Mighty Cube offers portable storage solutions that are safe, secure and convenient.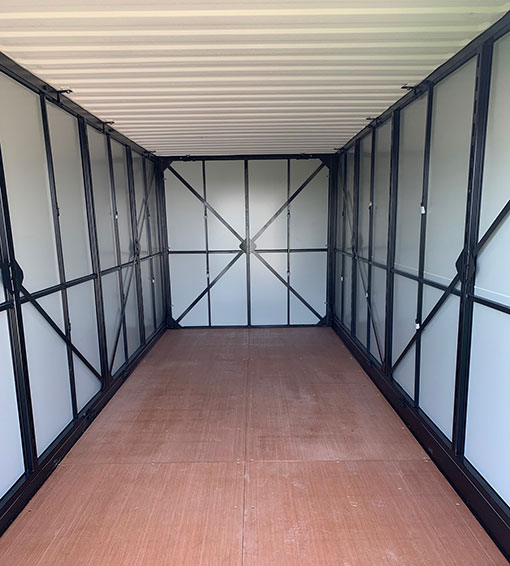 Rent Containers for Storage or Moving
Located in Paulding, Ohio, Mighty Cube uses state-of-the-art-equipment to deliver portable storage containers throughout northwest Ohio and the surrounding areas. Unlike self-storage facilities, we deliver the Mighty Cube right to your doorstep. Our forklift mule can maneuver your portable storage container right to your garage door, into your back yard, out of the way of your construction crew or anywhere else we can squeeze through.
We Deliver
Schedule delivery at your convenience and Mighty Cube will deliver your portable storage container right where you want it placed. Our state-of-the-art equipment allows us to maneuver in driveways, backyards and anywhere the Mighty Cube will fit!
You Pack It
When you rent containers for storage or moving, you can pack at your own pace. With our 8' x 20' portable Mighty Cubes you have 160 square feet and 1,280 cubic feet to store your belongings with confidence.
We Pick It Up or You Store It
You can either store the Mighty Cube container at your location or we can pick it up and store it at ours. Our drivers can also move the Mighty Cube to a new location if you are moving your home or office. Our team will work with whatever is best for you.
Mighty Cube Portable Storage Container Rental Costs
When you rent containers for storage or moving, you benefit from a safe, secure and affordable alternative to moving trucks or off-site self-storage. At Mighty Cube, we offer one convenient and efficient portable storage solution.
20′ Might Cube Dimensions:
20′ long    |    8′ wide    |    8′ tall    |    160 sqft    |    1,280 cubic feet
Storage Cube Rent: $130 per period (28 days)
Delivery Charge: $130 if within a 20 mile radius of Paulding, Ohio. Additional delivery of $3.00 for each mile beyond 20. Delivery charge includes one drop off and one pick up.
Get your Mighty Cube delivered today.
Contact us for more details.